The Vinca Nexus, known more simply as Vinca, is one of the main maps accessible from Furcadia's user interface. The Vinca and its count
erpart Vohwa are a pair of floating islands that act as a hub to the rest of Furcadia.
Entry Emit
You're back in the Vinca Nexus again, the heart of Furcadia. You can reach many main areas from here.
The Vinca
Players will appear in the Vinca if they're ejected from a dream rated E or T+, or by visiting wearing a costume with the same ratings. The Vinca contains four seating areas, where AFK players are automatically moved to, as well as lots plant life.
There are portals to the following maps:
If a player has wings or a winged avatar, they can access Theriopolis as well as some Silver Sponsor upload pads.
Vohwa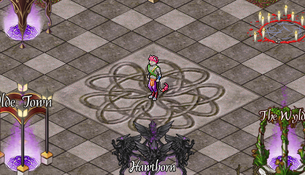 Vohwa can be accessed when visiting the Vinca with a costume rated M16+ and above. Players will also appear here when being ejected from a dream rated M16+ and above. Unlike the Vinca, it is very barren and there are no seating areas.
The portals here are similar to the Vinca, with some exceptions.
Ad blocker interference detected!
Wikia is a free-to-use site that makes money from advertising. We have a modified experience for viewers using ad blockers

Wikia is not accessible if you've made further modifications. Remove the custom ad blocker rule(s) and the page will load as expected.