Pineapple Lake Resort was altered or removed after an update. See Challenge Resort for the current version.
This article is saved to document Furcadia history.

Pineapple Lake Resort was Furcadia's welcome map, accessible via dream portal from Naia Green.  It is where new furres are placed upon creation. Pineapple Lake Resort contains several minigames and has a tutorial-like nature, replacing the older Welcome Tutorial map.
Entry emit
Welcome to Furcadia! You're in the Pineapple Lake Resort. Type in the textbox at the bottom of your screen to talk to people around you. Move with the arrow keys, or 1, 3, 7 and 9 on the numpad. To learn about Furcadia bump into signs, you'll even earn a free cookie! Find an NPC to play a game, or just walk around and explore!
Map
Pineapple Lake Resort is an open, spacious map with many areas to explore.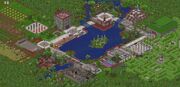 Main areas
Beekin's Boardwalk: This is where furres are placed upon entering the dream.
Ahroth's Square:
Jujinka's Terrance:
Grannyfurre's Diner:
Fountain Overlook:
The Temple of Time:
Mange's Camp:
Roland's Raceway:
Other Lake Resorts
Pineapple Lake Resort was designed to welcome users of the Furcadia iOS app. It featured shorter emits, as well as instructions geared towards operating the iOS app.
Vanilla Lake Resort was intended to be the counterpart for PC users.
Eight more Lake Resorts were intended to be used as overflow. These included:
Blueberry
Cherry
Chocolate
Grape
Mango
Mint
Pongo
Slushie